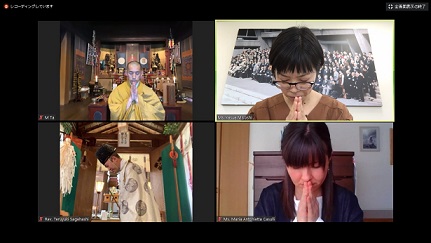 In the time of social distancing to prevent further transmission of the noble coronavirus, Religions for Peace (RfP/WCRP) Japan has opened a venue for an interfaith prayer to unite the hearts and minds of people in mid-April, on the internet.
Every Wednesday from 1:00 pm, two to three RfP representatives from different faiths show up on the internet to pray for the early extinction of the coronavirus accordingly to their rituals. Their prayers will be broadcasted online. You can pray together at home via Zoom software. At the end of the session, every participant will be asked to join a moment of silence. Each session will take around 15 minutes.
As the pandemic of the coronavirus continues, over 190,000 people have died and more than 2.7 million people have been infected over the world. Medical workers are risking their lives in the front line of the fight against the coronavirus.
Many people are concerned about their daily lives and the future due to the uncertain consequences of prolonged lockdowns and stay-at-home requests.
At RfP/WCRP Japan, we think it a humble obligation for us to share time for prayer to look back on our way of life and state of mind, to sympathize with others' sufferings, and to thank all the goodwill and dedication of people. We desire to extend love and compassion through the prayer and strengthen invisible ties among those who participate in the prayer.
Please register from the following link to participate on next Wednesday.
https://zoom.us/webinar/register/WN_QpJzXG7lTyeKkz0V8jhAWA
Also,past videos of prayers are available on our Yourube channel
https://www.youtube.com/channel/UChReYhOHflpxiJYrub6Bbqg

The prayers will start at 1:00 PM every Wednesday.

Don't forget to register on Zoom and subscribe our Youtube channel!